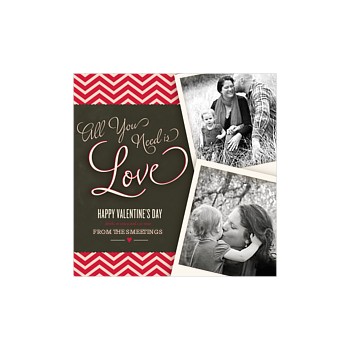 Love Chevron Valentine's Card
First off, I think Valentines Day is a waste of time and money for couples. I feel super sorry for the men out there that are trying to live up to some ridiculous standard. If you want to "spoil" me on a certain day….go right ahead but don't make it February 14.
Now for children, I think it is another awesome excuse for me to do fun themed crafts with my kiddo, bake some shit that is pink or red and send out cards! So when I found this idea on Pinterest. I thought this would be a great craft for the grandparents! I made the homemade edible paints and let Zoe run naked while painting these artistic paintings. But when mixing up the paints, I quickly remembered I have that weird kid that does not like to get messy or slimy. She touched the paint, stuck a handful in her mouth, quickly spit it out just to give me a look like "you are crazy if you think I am going to continue to touch this crap." The "Art" turned out great and it took several days to dry enough so we could mail it off to all grandparents.
By the way, the things I make from Pinterest never turn out like the pictures. Who is the person posting those "model" craft photos?

.